Jun 7, 2022
Legacy Ag Credit Awards $20,000 In Scholarships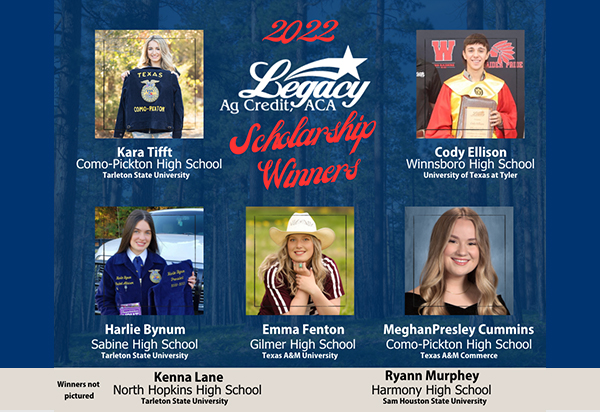 Legacy Ag Credit awards scholarships to seven college-bound students
SULPHUR SPRINGS, Texas – Legacy Ag Credit recently awarded $20,000 in college scholarships to seven high school seniors from northeast Texas. The college-bound students all excelled in academics and agriculture and live in Legacy Ag Credit's 10-county lending territory.
"It's a pleasure to support the next generation of rural leaders as they pursue their goals and dreams," said Derrell Chapman, Legacy Ag Credit chief executive officer. "Whether these students go on to contribute to the agricultural industry or play leadership roles in their rural communities, a college education will be their springboard to greater things."
The rural lending cooperative awarded one $5,000 scholarship and six $2,500 scholarships. This is the third year for the Legacy scholarship program.
Following are the recipients and the colleges they plan to attend.
$5,000 scholarship:
Kara Tifft, Sulphur Springs
Como-Pickton High School
Tarleton State University
Animal science/pre-veterinary medicine
$2,500 scholarships:
Harlie Bynum, Gladewater
Sabine High School
Tarleton State University
Agriculture services and development
Meghan Cummins, Winnsboro
Como-Pickton High School
Texas A&M University – Commerce
Psychology
Cody Ellison, Winnsboro
Winnsboro High School
University of Texas at Tyler
Civil engineering/ag engineering minor
Emma Fenton, Gilmer
Gilmer High School
Texas A&M University
Animal science
Kenna Lane, Sulphur Springs
North Hopkins High School
Tarleton State University
Agricultural education
Ryann Murphy, Gilmer
Harmony High School
Sam Houston State University
Interdisciplinary agriculture
Legacy Ag Credit is a borrower-owned lending co-op that finances agriculture, rural real estate, country homes and agribusiness. It is headquartered in Sulphur Springs and has branch offices in Canton, Gilmer, Longview, Sulphur Springs and Terrell. Legacy is a part of the nationwide Farm Credit System.
For more information, visit LegacyACA.com.